PROFESSIONAL FREEDOM TAX SERVICE
WE WON'T FILE UNTIL YOU SMILE!
| | |
| --- | --- |
| Posted on March 26, 2014 at 1:06 PM | |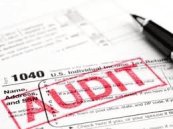 Question: I have just received my first notice from the IRS indicating that there will be a Schedule C Audit. What should I expect?
The IRS should have provided you with an Information Document Request that will tell you specifically what they want to review in this first meeting. Review this document request with your accountant as a first step. The time spent gathering and organizing the required supporting records is often more than the time that will be spent in the meeting with the IRS. The more of the prep work that you can handle, the more you control your costs related to the audit. You will, of course, want to review the documents with your accountant and then get your accountant's thinking about the advisability of handling the meeting on your own.
One of the keys to your initial meeting is to only respond to the questions that have been asked. Don't take more into the meeting than is needed to be responsive. Your accountant will be useful in helping you to determine what to take. Your accountant can also help you understand the need to keep your comments limited to only what is required to be responsive. We're assuming that your accountant prepared the returns and is familiar with your Schedule C and with your knowledge of the Schedule C. Your accountant can help you do a self-audit ahead of the IRS meeting. The results of the self-audit may point out gaps in the documentation or gray areas that are best communicated by a tax professional. If that is the case, you will likely want to have your accountant handle the meeting. You may even decide not to attend the meeting at all and have your accountant work on your behalf with a Power of Attorney.
The following tips and information may be useful as perspective on the audit process:
Don't wait until the meeting to look over the documentation. Know what information the IRS will be looking at and anticipate questions that might be asked about it. Have backup materials ready to answer those questions.
Let the IRS lead the meeting. Don't bring up anything the IRS agent does not. Answer only the questions you're asked. Even an innocent statement made by you could lead an IRS agent to expand the investigation into your finances.
Don't be defensive. The meeting is unlikely to be pleasant, and you may feel emotional about having someone question your finances. Don't allow those feelings to take control of the situation. Remain calm and pleasant. If you feel you are unable to remain calm, it might be a good idea to have a tax professional handle the meeting without you.
When faced with an audit, it's easy to conjure up visions of all the things that can go wrong as a result of the investigation, but by being prepared, you can walk away from the experience having lost only a minimal amount of time in the process.

Categories: Self Employed Individuals

0

/